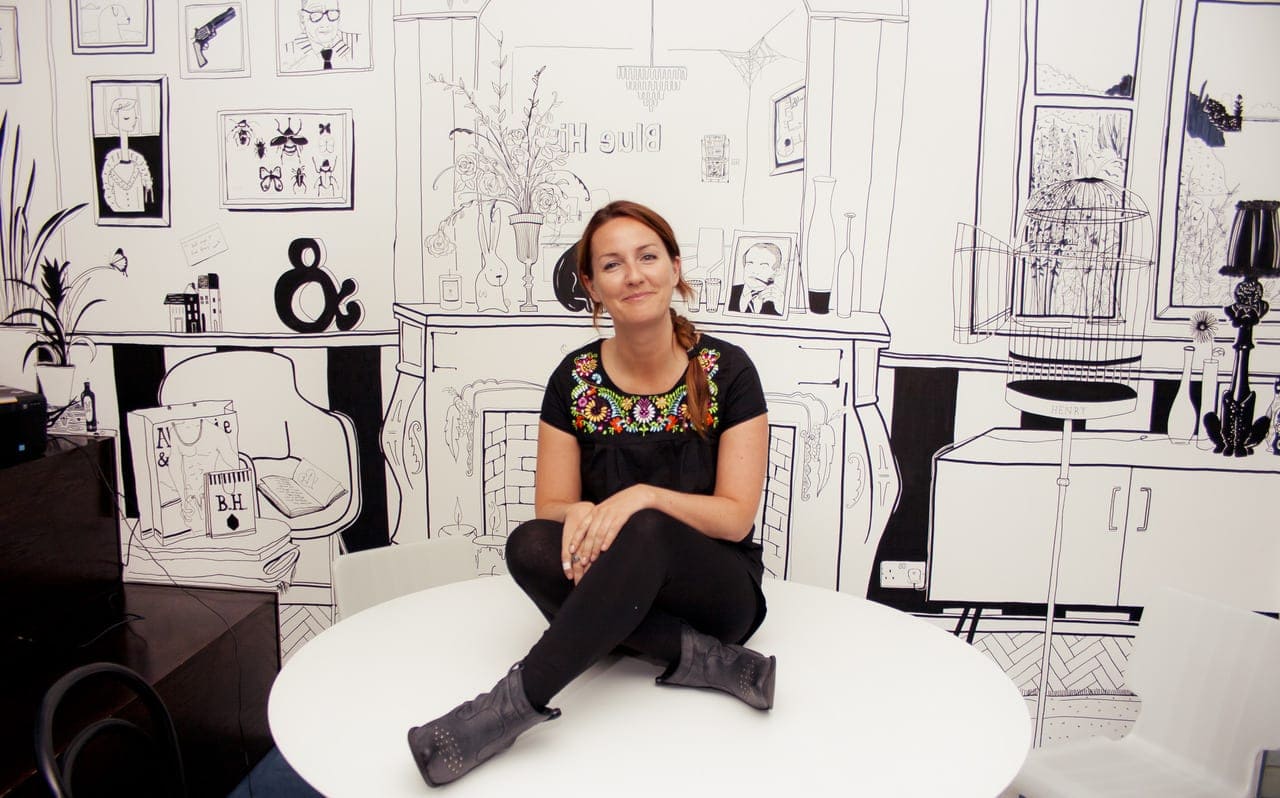 Freehand Graphic Design Creates Office Interior with Unique Creativity
Have you ever wanted to just pick up some crayons, and start writing on the walls?! Well that's exactly what "Jo Bird" aka Caz Swanne did for a multi-channel marketing company Blue Hive. They wanted something unique, special, creative, artistic…..for their office interiors and they commissioned Caroline to quite literally draw on the walls with a freehand graphic design.
The brief was to give each office meeting room a unique identity, based on the Cluedo board game. There is a lounge, a dining room, a study, a billiard room, a library and a kitchen – where Blue Hive literally cook up their crazy creative ideas.
Typically companies are using Graphic Design more and more in their office space, to portray their brand and create a more inspiring working environment for people to live and work in. This usually requires extensive use of digital wallpaper, full-colour manifestation on glass, but rarely does a company ask the artist to roll up their sleeves and literally start scribbling directly on the walls!
The result is truly cool. Coming up with some unique quirky features, as she went along, Caroline turned the wall of a managers office into a funky living room, complete with fireplace and family portraits. By hand drawing, although the process was time consuming, it allowed her to customise the solution to the unique requirements and perspective of the room itself and to the person tastes. It creates quite a wow factor – unsurprisingly it was commissioned by a top London creative marketing company in Blue Hive, who pride themselves on their ability to think differently and creatively. It is certainly without doubt – unique to their office space!
Caroline has two "persona's" and styles, one which is more freehand artistic (Jo Bird), which is seen here,  and the other more based in Graphic Design (Miss Swanne), working on computers before the final solution is signed off and produced. Caroline has worked with a number of Business Interiors clients such as Oxford University, JSP and Certikin in coming up with unique vertical surface illustrations to refresh their office design and adding her unique element of creativity and graphic designing skills that can turn a good office into a truly inspiring and wonderful space.
Thank you to Charlotte Rose (pictured right below) for the pictures and interview.
So how did you get first started in the oh-so-competitive field of illustration?
Well, I studied Illustration at Kingston University straight out of school; I always knew that I wanted to work in art and illustration seemed more commercially viable and accessible than fine art. After graduating, I went to work for a visualizing agency called Three Blind Mice where I learnt about the sales and marketing sectors of the industry. I was project managing the creative when in fact; all I really wanted to do was BE a creative. So in the end, it was JELLY LONDON that gave me my big break and starting representing me. It actually was only about two years ago that I gained the confidence and acquired the clients to be able to fully freelance for a living.
Great decision, and I bet you've never looked back since! But how did you manage to find your own style and stand out from the rest of the doodlers?
Well, funnily enough, I have two styles. When I left uni I felt I had too much of a house-style which was most probably the influence of my tutors; you truly find your style when you start experimenting. I had to find my own feet at Three Blind Mice, there I picked up lots of computer tips from the other artists which has really influenced my Miss Swanne style, (which is more graphic design focused) over the hand drawn qualities of my Jo Bird style; which I am doodling onto your meeting room walls as we speak!
Ok, so obviously I am biased but I do prefer the hand-drawn uniqueness of doodles as opposed to computer arts, combining the two is the most fascinating thing for me though. Everyone see's things differently I suppose, speaking of different opinions, what is your process when working with clients?
My process is straight forward, this sets illustration apart from art, I like to think that I am the pencil in the clients' hand allowing their idea to express itself. After the initial briefing with the client where we will discuss their key requirements and expectations of the creative, I always take some time to consider and give the brief my own input, at which point I will produce a rough pencil draft. The clients will of course feed back their comments, which will lead to more roughs before I go into the final line work and add color. The Blue Hive project is a little different as it is allowing me more creative freedom and allowing me to art direct which is refreshing and most of all, it's fun.
Hmmm… Ok then. And what do you enjoy most about working as an illustrator?
It's fun because I get the chance to create stuff that's unique but also I love a challenge. I get a real kick out of seeing my finished work published and knowing other people will see it too. I was in a Harrod's magazine recently and my most recent Miss Swanne commission can be seen in TOWIE's ident for Surf! It's well reem!
Brilliant! I love that little dog on the washing line; very playful. How do you maintain the work – play balancing act?
When I have a job, I give it 100% of course, its go-go-go. You do however, have to learn to enjoy the down time as an illustrator because you are not consistently busy. I find it gives me the perfect chance to catch up with my six nephews and my little niece; they are all under the age of four at the moment so it's a special time for family.