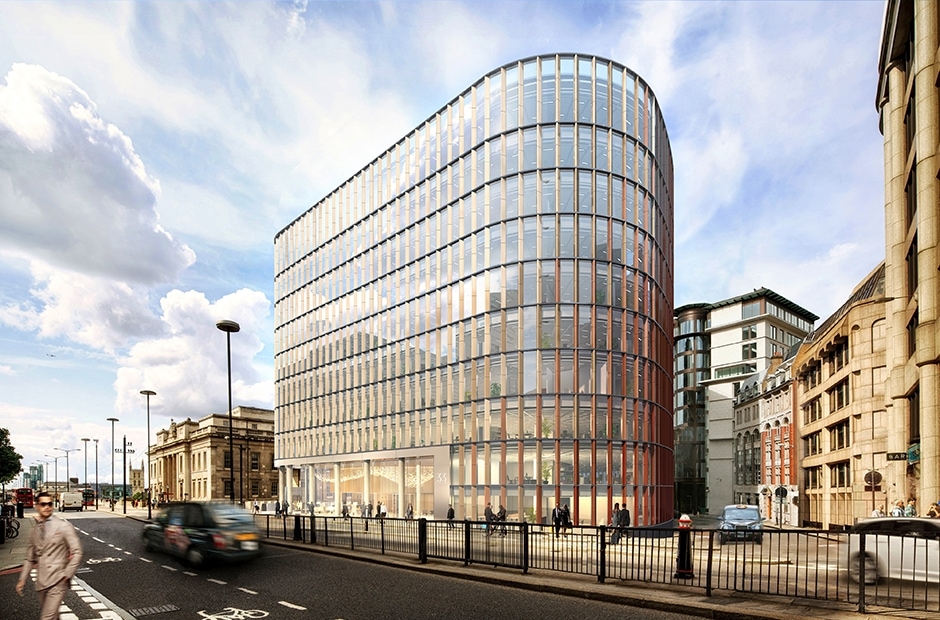 33 Central London Office HQ. US bank puts our Brexit fears to rest.
In one of the biggest property deals the UK has seen since the June 23 referendum, the San Francisco bank Wells Fargo has agreed to buy the striking new office development that is 33 Central, King William Street, London.
After the general unease cast upon the nation by the shock vote for the UK to leave the EU, this £300m ($396m) investment couldn't be more welcome.
Not only is Wells Fargo the world's biggest bank by capitalisation, but it is also the 7th most respected company in the world, according to Forbes. The plan is for the new 225,000 sq ft office space to put the 850 Wells Fargo employees, who are currently spread across the city in 4 different buildings, into one location.
The company, which operates across 35 countries with over 70 million customers worldwide, plans to use this European Office HQ to reach out to American corporate clients carrying out business in the UK, and also local businesses looking to transact in America.
The 11-storey, state-of-the-art office building is centrally located, close to the Bank of England and with fantastic views of the River Thames. Complete with a double height reception of over 400 sq m, it sets an impressive tone for any business. The island site is filled with natural light with ceiling to floor windows. This stylish, synergistic office design aims to boost productivity and increase employee comfort.
It is also equipped with a ¼ acre rooftop garden, where workers can think and relax in a unique and open environment, whilst enjoying spectacular panoramic views of the capital. The garden is said to have over 40 different types of plants and flowers, giving employees that well needed break from their office chair.
HB Reavis, the developer of 33 Central, originally sought to lease the new and improved the property to Wells Fargo, before finally agreeing to sell, with Gerald Eve and Knight Frank as agents for the developer. The office refurbishment is due to finish in Autumn 2017, and Wells Fargo are planning the move for 2018.
Despite many doubts of how Brexit might affect the property market, this deal seems an optimistic start for the UK. Marian Herman, chief financial officer of HB Reavis, said in a statement that the successful signing of the deal shows resilience "even under seemingly challenging market conditions."
(Thank you to HB Reavis for use of the images)