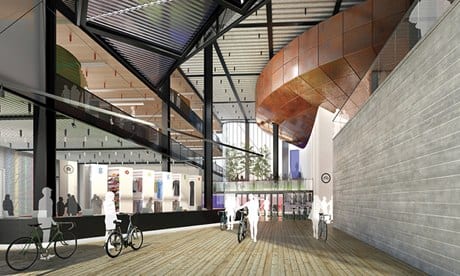 Google pushes back King's Cross office move to 2017 to "push the boundaries of office design"
Google has gone back to the drawing board over its plans to move to new London headquarters – saying the original ideas weren't challenging enough. The search giant has postponed its moving date until 2017, with its proposed £650 billion King's Cross office venture said to feature an indoor football pitch as well as a rooftop swimming pool. The firm is believed to seeking out premises that make the workplace an exciting place to be. The scheduled date for the move was originally planned for 2016, but Google has now asked the building's designers Allford Hall Monaghan Morris to conjure up a "a new design within the original floor plan that will push the boundaries of office design and better fit the needs of the local community."
The firm has said that it hopes the new design will represent "something even better for Google, King's Cross and for the local community." Google first announced its relocation plans at the start of 2013 before being given the go-ahead for the move by Camden council at the end of the summer. It is believed that the dimensions of the proposed office will be unaffected, featuring 11 stories and 920,000 square feet of space. It's believed that the premises – which have been branded a "groundscraper" – will enable staff to cycle directly into the building.
Currently, Google's London operations are divided into multiple sites, but the new HQ will bring each department together under one single roof. Google's dissatisfaction with the original interior plans will mean that the company must resubmit their plans to the authorities, but it is sticking with its original choice in architects. Simon Allford from Allford Hall Monaghan Morris said that Google were concerned about their own staff's attitudes towards the new premises, saying "they need to like the community of the building."
The new King's Cross office headquarters are to stretch along a new street which will be situated between the King's Cross and St Pancras railway stations. The building will house 4,500 Google staff – significantly more than are currently employed at the company's two main capital sites. Allford said that the new venture was comparable to a "theatre", with props coming in the form of "little meeting rooms, the furniture, all this, which ideally you could reconfigure overnight." Google's Calafornian Googleplex already exhibits this spirit of adventure and ambition, consisting of volleyball courts, a putting green and two swimming pools.
The principle behind all of this is to "encourage casual collisions of the workforce", according to Google. This essentially means that the social activity nurtured by the facilities will hopefully flow back into the productivity and creativity levels of its staff, with laptops or tablets never being far away when inspiration strikes. As firms like Google attract employees from many different backgrounds and cultures, integration is vital if success is to be achieved.
"You come to a city to meet people who aren't like you, who have different ways of seeing the world. The street life is incredibly important for why you live in a city", said Allford. Taking that idea of life into the building, the social space will make what Google calls positive friction. You want people to get to their desk and do work, you want them to get around, but you don't want them to miss each other."