BBC's "Extraordinary Homes" Proves Office Designers are Rubbish at Homes.
My ears pricked up watching Grand Designs a few years ago. I caught the husband on TV mentioning that he worked with offices designers as a project manager for commercial office building construction. Sure enough, he had decided to employ everything he new in building his dream home, along with all the suppliers and products he had encountered. No surprises then, you might say, that when it was finished it looked like an office block. Gleaming white gloss kitchen, full glass facade to maximise light, gleaming charcoal stone floors, a floating staircase, open plan living. Although I admired it, deep down I knew I would hate to live there. Which got me thinking. Unless you're Scandinavian, the less is more sensibilities of contemporary office design rarely mixes well in the home. If you're an office designer, the best advice I can give you, is don't touch a house! At home, more is more, not less is more, and office designer's just can't help but cut out the unnecessary details of life, which normal people call character, cosiness and comfort. A recent episode of BBC's Extraordinary Homes has, I think, proved me right in my initial thinking.
On Episode 2 Caroline Quentin squeals with delight as she is helicoptered into the home of the architect who designed the "Walkie Talkie" in London. Jay Bargmann of Rafael Vinoly Architects. The Walkie Talkie is a notorious office landmark in London. The  unusually curved office building had to be modified soon after completion, because it was melting cars with reflected focused sunlight. Apart from the unusal curve, it is a fairly standard office building. So seeing how the Architect had designed a home, it seems my theory was about to be put to the test. What will the home look like? Will it be a monument to the office world? Or be an astonishing place I would genuinely like to live in?
Sure enough, it was more office than an office. As the helicopter flew in, we could see an almost perfectly rectangular glass box sitting in the landscape, which looked visibly distressed by this glass block UFO that had fallen out of the sky and embedded itself into the hillside.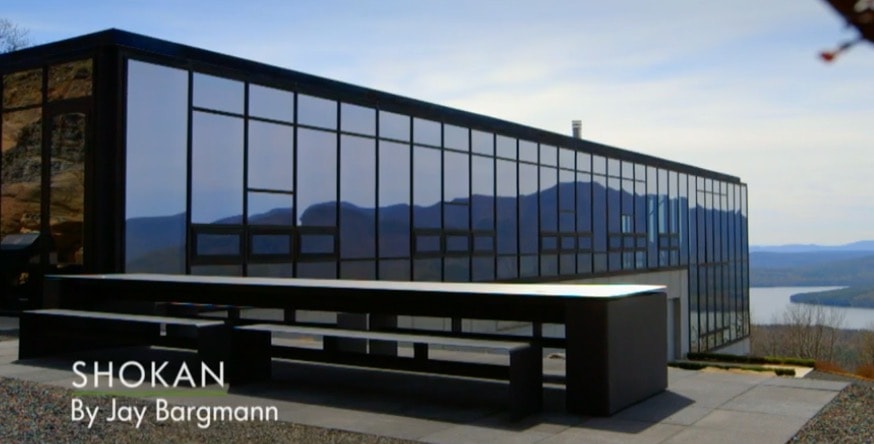 No terraces at the front to take in the fresh air and the views, that would spoil the office block lines obviously. You can't even open the windows, save for a few "postboxes" that frankly spoil the lines of the building – maybe he shouldn't have bothered at all and gone the whole way? Bizarrely the building had not been built parallel to the view, to maximise the views from the windows, but perpendicular to the landscape, to "focus" the building at one end. So, I assumed that "end" would be the living room to end all living rooms? In fact, it was more airplane terminal than 'night in with a film". There were two Vitra Eames Lounge chairs (obviously Eames lounge chairs darling) and ….that's it, besides 3 square poofs to perch on in the window?! Is this set up for a furniture brochure shoot? Too cool for school is an understatement.
The Eames chairs actually had their back to the view, and were pointing in at the building. Presumably the building was far better looking than the view to the designers? Caroline and Piers reclined on the chairs and she tried to understand the point of the building, with Piers pointing out a couple of cables that stopped the whole box falling over.
Caroline struggled to understand what she should like about it, Piers struggled to find the words from Architectural college to sell the concept to her. Caroline said what we were thinking subtly, when she struggled to make a cup of tea. It just doesn't work as a home.
The stairs were beautifully made, no doubt. But I couldn't help thinking the money could have been better spent. Some sofa's would have been a good start.
Upstairs, Caroline struggled, completely unable to find a kettle, and when she did find it, was unable to see where to plug it in. Things turned comical when Caroline realised there wasn't a door on the loo, in fact everything was open plan, including the bedrooms.
The ceiling had been left "honestly exposed" a rotating fan added to the industrial impression. It looked like power station turbine of sorts, maybe an aircraft hangar?
And of course the dining table looked just like…you guessed it…a boardroom table.
The overall impression was, someone had spent a lot of money creating a showcase of their best office work, but forgot to make a home along the way. So I stand by my original impression. Don't, under any circumstances, let an office architect or office interior designer anywhere near your precious home!