Money.co.uk's Cirencester Office Design with Laurence Llewelyn-Bowen
When I heard that Laurence Llewelyn-Bowen was designing his first office, for the new headquarters of money.co.uk in Cirencester, I must admit to feeling sceptical about the end result. For two reasons:
Firstly, when the various fields of interior design (for example, office, home, retail and hotels) cross-fertilise, the offspring can produce questionable results. Office designers, like me, are as susceptible to this problem as anyone else, which is why I seek the advise of my interior designer mother-in-law, Pamela Horton of Cotswolds Inns and Hotels, when it comes to my home, lest I ruin everything by knocking the whole place down and building a glass cube. If you need evidence of the dangers,  watch The World's Most Extraordinary Homes, and see what the brilliant designer of the 'Walkie-Talkie' has built for himself. Unsurprisingly, it looks just like a sleek office, which is surely the worst possible look anyone can come home to, and is probably why it looks like no one actually lives there.
Secondly, bright bold colours have to be handled very delicately in an office. That bright red reception area might seem like a good idea at the time, but within a few weeks some employees have been known to consider slamming their heads down on a sharp pencil, lest they ever see red pantone 032 ever again.
So it's no surprise then, that I think appointing Laurence Llewelyn-Bowen, of "Changing Rooms" fame with a penchant for purple and orange, might prove to be a risk.
If anyone has seen the gleaming glass headquarters of St. James's Place from the car park of Waitrose in Cirencester then you might imagine that that is what Money.co.uk's head office probably looks like.  Peering through the glass it isn't hard to imagine Laurence's flamboyant style clashing comprehensively with this typical corporate office building.
But when I see the Money.co.uk building I realise nothing could be further from the truth. It's a castle like the fairy tale ones you see in Disney movies. If there is one building that can withstand a visit from the mad hatter's tea party, it would be this one. Laurence confidently qualifies the provenance of what I am about to see: "I wanted to have a proper, grown up, intellectual relationship with the building itself and I think this is what the planners enjoyed. You may look at the building and say well that's a little bit Alice in Wonderland but bizarrely these are actually the right kind of references for the date of the building. Alice Liddell, who was the inspiration for Alice in Wonderland, actually spent a lot of time in South Cerney just down the road, so there are a lot of layers here above and beyond the very fashionable, very invigorating bright colours."
The front door is reassuringly frameless glass with a sharp company logo, as one might expect, but I can glimpse the trademark purple on the floor, a living wall and a Money.co.uk logo chandelier. This is going to be interesting, perhaps even magical – there's a hint of the Harry Potter about this building too.
As you walk through the entrance to the reception area it's clear that Laurence is going to relish the opportunity to jolt the workforce out of office mediocrity, not with random madness but with a clear strategy. "We spent so much time working on what this place felt like when you walked through the door," says Laurence. "There you are, it's a really crap Monday morning in January, you've got a little bit of a hangover perhaps, it's raining outside and you've got to go to work. What is the first thing that happens to you as you step into the building? Here we've created an entirely living environment – we've got the vertical planting in the space, there's bird song, there's sense, there's incredibly thoughtfully contrived lighting, to actually make you feel as you come through the door, 'ah – this is an oasis'. We want the first point of contact for the people who work here to be unbelievably positive and something you actually look forward to," Laurence informs me.
And I see what he means. I'm not sure it will cure your hangover, but it will certainly distract you. You can see a connection between the angles of the Money.co.uk logo repeated throughout the design the flooring is an infinite 'M' zigzag; even the office doors have custom made triangular vision panels to match. Are those birds on the chandelier? No, it's the logo again; this is an office after all. The recurrent Money.co.uk 'M' zigzags through the floor pattern, but I'm starting to see 'W's for Wow! And the herringbone also has its finger right on trend. All this fashionable indulgence works well, still managing to stay on course as 'relevant to the company' and it had to be purple of course, just in case anyone is any doubt who the designer might be. I do wonder how this would sit in a traditional office building, but in a castle it absolutely works. Who wouldn't be proud to work here?
I'm going to say it straight out, before I take you deeper inside the rabbit hole – this office is a triumph. Yes, there are some areas that don't work so well for me, but then some people don't like marmite, and for them there is also plenty of jam, peanut putter, and marmalade in this office. When I see the subtlety and detail that has gone into some of these rooms, I realise I must have underestimated Laurence Lewellyn-Bowyn; those flamboyant five minute makeovers concealed some serious talent. It's hard to believe this is his first office. This stands as one of the best offices in the UK; not even Google have a castle.
And it makes business sense too. If this office were in London, CEO Chris Morling tells me, it would cost four to five times more in property costs, and in a matter of years that adds up to millions. Chris clearly feels that that his money is better spent on his employees' welfare. Additionally, the employees don't have the painful daily commute in and out of the big smoke either.
"The fact that Chris is here in the Cotswolds with Money.co.uk is an incredible feather in the cap of the Cotswolds," says Laurence. "The Cotswolds should be all about fudge and teacups but in fact there is an enormous amount of commitment to design and to modernity. We have a huge new wave of food and digital companies moving here and I think what Money.co.uk have done will become a real totem for the resurgence of the Cotwolds."
The passion for the Cotswolds is clearly shared by Chris who moved to the area 12 years ago, "I made the decision then that I wanted to build a business here, not least because I wanted a short commute and to enjoy the countryside, but also from a business perspective it makes sense – working in London is just so much more expensive." You have to admit they have a point.
But less about the economics and back to the office: let's start with the Ice Cave meeting room. What before was a damp, dark back room, probably only good for storing junk, has been transformed into a cosy quiet room that looks supremely practical for private impromptu meetings and quiet working. And it looks cool too (pun intended); the sled table is inspired, and the penguin on a fur rug is just the right side of amusing and pleasantly decorative. The subtle grey and blue colours work extremely well together and are calming, not shouting to distract you from your work. The angular walls add interest and there is an acorn stuck in the roof! Yes, we've seen similar in Google somewhere with their unlimited budget but this works just as well. Oh and nothing to see here, just a polar bear…!
Surprisingly the Google reference does not sit well with Laurence, "I said to Chris right from the outset, this isn't going to be a Jamie's Italian – a series of rather self-conscious clichés, that's what I call 'Google design', which is all rather down market." Um…isn't that brilliant igloo totally Google inspired? "No, I wanted things to be much more evolved," Laurence continues. By that he means places like the boardroom, which has been named The Bored Room because, I suspect, that is exactly what Laurence feels when he has to sit in one; don't we all? There is a strong combination of orange and purple here to make sure falling asleep isn't an option, but closing your eyes occasionally is a necessity. "In the boardroom we've got a neon ceiling, which is obviously a very fashionable thing to do, it's the sort of thing that Tracey Emin is doing a lot of at the moment, and it's something that's getting a lot of comment from the denizens of Cirencester as they take their Labradors for a walk in Cirencester Park. But actually it's Tennyson's 'Splendor Falls on Castle Walls', which I thought was entirely appropriate." Apparently this piece of poetry was written at about the same time the castle was built. "Tennyson also had a relationship with the Cotswolds. It's a classical reference put in a contemporary context," Laurence continues, "but even better, 'Splendor' makes an appearance in Monty Python's Holy Grail, which was also another big inspiration for the project."
It's strong stuff. There was a time when management consultants used to recommend having meetings standing up to keep the time spent in them to an absolute minimum. Let's just say that even though those Interstuhl chairs are fantastically comfortable, Laurence's clever use of colour in this room should achieve the same result as those management consultants, whilst sitting down. This would no doubt delight Laurence. "Look, you don't bring in a design brand and have me asking people what shade of beige they want, actually the whole point was to do things that were boundary pushing, exciting, slightly titillating, a little bit naughty, a little bit crazy, a little bit scary, a little bit me!"
I hear what he is saying but then I'm confused by the subtlety of the kitchen, which is my favourite room. The colours are subtle and neutral compared with the other areas; there's nothing in here to jar or jolt, it's a real refuge. The colours change just enough to show something is at work here, but never raise the noise above anything other than a great place to hang out. The sofa and stool fabrics pick up the colours on the side of the arcade machine, with the fabrics on the Connection chairs subtly changing to pick up details elsewhere around the room. None of this is necessary to create a good space but we're being elevated to higher plane here. The fabric of the pool table is new, embedded with the Money.co.uk logo and in a colour that seamlessly blends with the scheme. The copper pipes and industrial lights, along with the exposed ducting, tread just the right amount of industrial without veering too far into the clichés Laurence wants to avoid.
The detailing doesn't stop there: the green accent colour on the cage light-fitting picks up on the custom colour of the wires on the hanging bulbs, and they match the death ray colour of the UFOs on the arcade machine; the exposed silver pipes; the copper pipe detailing; the copper effect splash-backs; the herringbone parquet flooring that echoes the carpet outside and bounces randomly between the white of the kitchen surfaces and the wood; the work-tops that flow down to the floor; the LED strips under the kitchen units lighting the floor. It really is very good.
My admiration turns to astonishment in the loo, of all places; often the last place to get any love in an office.
The hand dryers have been capped in copper and the whole wall has been elaborately decorated in a maze of copper piping, dials and knobs, turning the mere act of drying your hands into a magical ritual. Practically it's completely unnecessary, and a waste of time and money in the real world, but it is uplifting to see the mundane so lovingly transformed. The colours sing with the attractive and thoughtful details, balanced in just the right measure.
And the urinals? They get exactly the same treatment. My only surprise is that the urinals themselves are, shock horror, normal. Surely they should have been a monkey holding an ice bucket or some other wonder? It only serves as a reminder that our standard expectations have now shifted considerably up the bell curve.
And there is more: a cinema room; but not like a smaller version of your local Odeon, this is a life-sized starship complete with views of distant galaxies through the 'windows' in 3D. Possibly some floor to ceiling digital wallpaper of 'The Enterprise' would ordinarily have produced a similar look, but that's not good enough here, instead we have a fully realised film set.
I'm slightly embarrassed to ask Laurence if anyone has done a 'post-installation' survey of the employees, which is the usual process to measure the success of these office refurbishments. "We're just sitting here in this office and everyone is rolling past with an enormous smile on their face as if we made this place out of catnip. Everyone is rolling around with warmth and pleasure," Laurence responds. I'll take that as a yes then! Chris Morling assures me, "Before we began, consulting the team was very much where we started, we discussed with them exactly what they wanted out of the space and we had this information before Laurence came on board, that was very much the driving force behind everything we've done. It's not just about pretty walls and a stunning work environment, which we have; it's about creating a space that works for the team. Whether that be a room full of whiteboards, or little chill out areas where you can work quietly on your own, or cameras in walls (not to be spied on, but to be able to Skype with colleagues in London); all of these things add up to make a great working environment, which is what we are all about."
There's one room that is pure 'Laurence of my preconceptions'.  I imagine that Laurence couldn't contain himself anymore, and the Pow Wow room staggers from a full frontal hit of LLB. On one wall is a portrait of the man himself – the 'Laughing Cavalier' by Franz Hals has been remodelled with the face of the designer, emblazoned with the slogan 'Art is the Ape of Nature'. A traditional suit of armour fills the corner, paying homage to the history of the building, but it has been splattered Jackson Pollock style, with multi-coloured fluorescent paint. From his vantage point on the wall it's as if Laurence has ejaculated on our medieval sensibilities; I have to stop myself from cheering him on!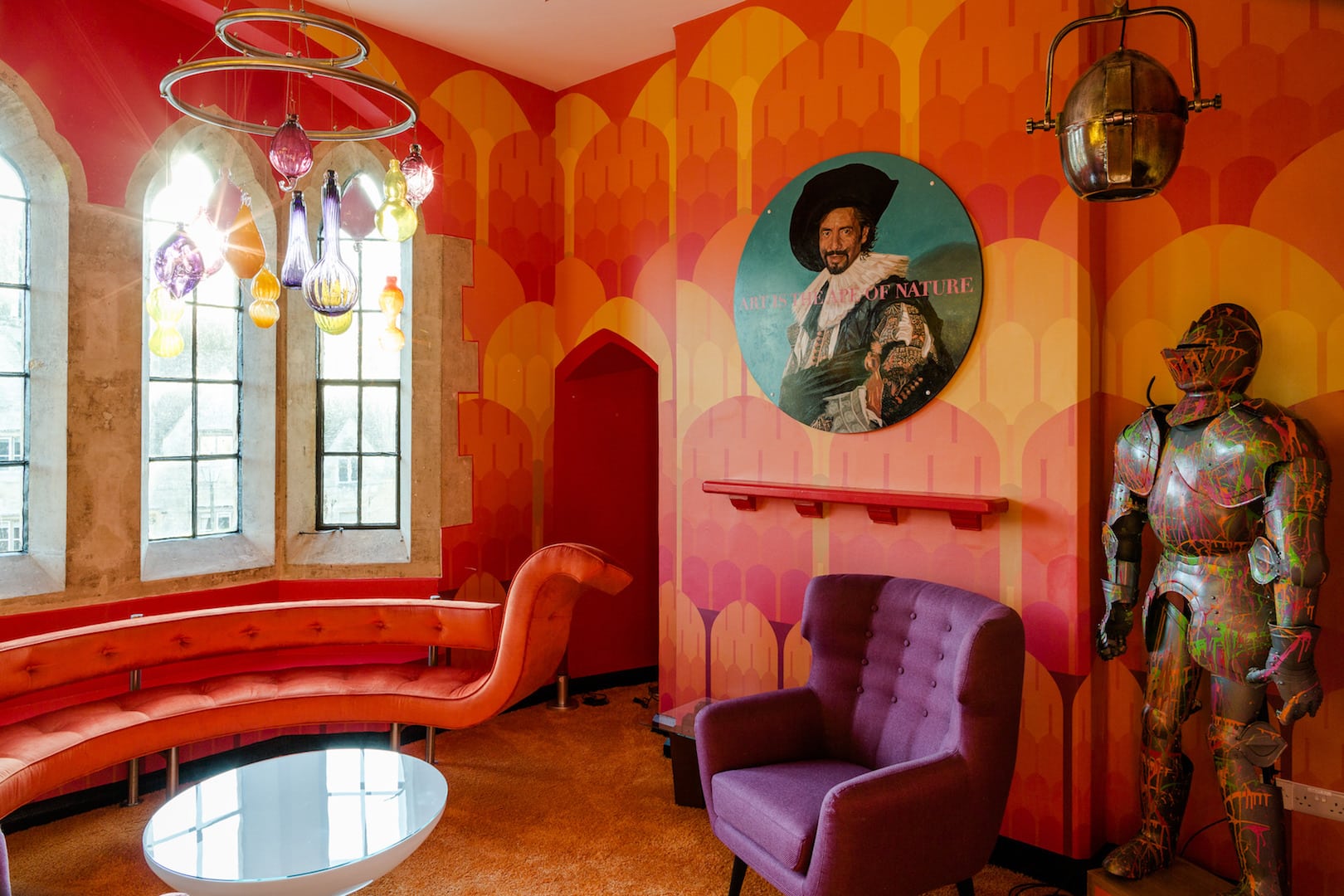 On the opposite wall a pseudo Liechtenstein literally smashes us in the face: 'Design's gonna get you in the end punk'! In the long term, I'm guessing if there is one room that Money.co.uk will quietly reconsider when Laurence has turned his back, it will be this one. I ask Chris if he was involved in some of these off the wall ideas, or did he just give Laurence free rein? "As Laurence has previously said, you don't bring in a world class designer and tell them what you want," says Chris; "Superstar," corrects Laurence mischievously, "superstar, world class designer; get it right mate!" You can tell these two get on very well, and had a lot of fun on this project but there is a serious point here – Chris continues, "You bring someone on board with that talent because you want the benefit of their experience. So the balance was ensuring that the work environment worked for us and that we didn't have anything in terms of colours and design that were so far off the wall that people would hate it. And it was finding the balance between the flamboyance and creativity, and the fun, different work environment that we wanted."
That's an interesting way of putting it. Laurence can't diss the style of Jamie's Italian and Google in one breath, then wave through that kitchen and igloo, which I love. But, in my opinion, that only goes to prove that Laurence, Chris  and the money.co.uk project team,  are operating at another level altogether here. This is after all a working office and it never loses site of that fact. There is just the right amount of flamboyance "balanced", as Chris Morling put it,  so that every indulgence in fact serves an ultimate practical purpose. This office is so astonishingly good, that I can report that this is the most successful cross-fertilisation I have seen. We should never have doubted that Laurence, put out to stud in The Cotswolds, would produce anything other than a thoroughbred winner.